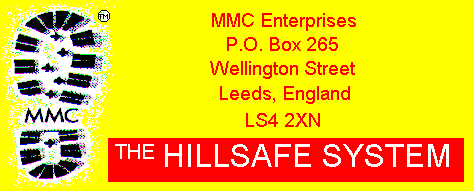 Promoting good practice on the hills.
---
The Hillsafe System is a combination of linked information cards, First of which is the HillSafe Prompt. This is A4 sized and features a Route card and Weather forecast record on one side with Incident report and Management sections on the reverse.
In an emergency the prompt is designed to be separated down the center so the information from the incident report along with your route can be taken to the emergency services whilst the incident Management section along with the weather forecast can stay with the group.
---
Also contained in the system is a "StayBehind" card this, when filled in, provides a ideal way of leaving relevant information with a responsible person.
Should you be out of contact for an extended period of time (defined by you) the "StayBehind" card contains all the information need by the emergency services.
---
The HillSafe System has been designed for use by all people who participate in outdoor pursuits; and has been thoroughly tested by walkers, climbers, ramblers and off road cyclists whose outdoor skill levels vary widely
---
All aspects of the HillSafe System are weatherproof and completely reusable.
---
The HillSafe System is ideal for groups as well as individuals.
By providing an easy to use, step by step guide to planning you activity The HillSafe System has proved a useful teaching tool.
---
This is the first of three innovative products due for release in 1996 ...
---
The authors have worked closely with various mountain rescue teams, Doctors and outdoor education experts.
Under Construction !
We would Like to include a selection of top routes in the UK (Scrambles, Walks, Climbs) all contributions most welcome.
---
Last Updated 03 Aug 1996.
© MMC Enterprises 1996.
---
Back to Mountain Online