It would have been a surprise if 24 year old Andrei Vedenmeer did not become a World Champion Climber. Born in Semeis, a little village near Yalta in the Crimea, his parental house stood on the Koshka (Cat) rocks, overlooking the village, and the Black Sea below.

Exploring the natural beauty of the surrounding countryside, swimming or spearfishing in the sea; scrambling on the rocks and cliffs above, Andrei's childhood will have been the envy of every adventurous boy-child.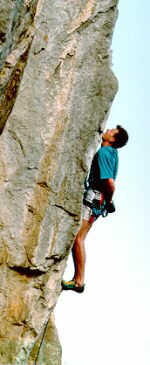 In tune with nature, he would spend hours watching the seagulls' graceful, effortless flight. Dreaming of being free as the wind, he would scramble to the top of the nearby cliffs, where he could be as high as the birds.
Very soon he developed a love for scrambling on the big freestanding boulders strewn around the countryside. A pastime that was to lead to his becoming World Champion Speed Climber in 1995 and 1996.
Helped along, no doubt, by the fact that climbing has always been the most popular sport in the Crimea, where, from every vantage point you can see rocks: small and big; lonely and free-standing boulders, intricate and craggy features, and large sentinel-like rock-massiffs!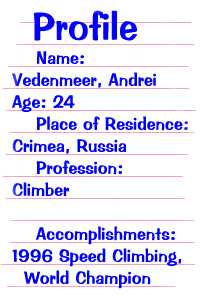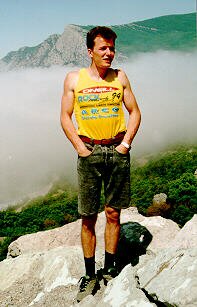 Watching his older friends compete in the climbing competitions on the Koshka rocks, he knew what sport he wanted to practice! At the age of 13 Andrei started training to be a champion climber. Initially though his efforts were hampered by a coach who had no "feeling" for his sport or his potential. This lead to terrible conflict, and Andrei eventually decided to pack up climbing.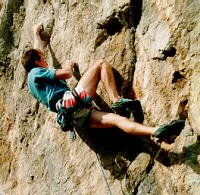 Then Margarita Panferova, main coach of the Ukraine Climbing Team stepped into his life. She convinced Andrei and his parents that he had the talent to reach the top, and that he must continue in his climbing.
And so he started climbing again. According to Margarita, Andrei was an absorbent student: "absolutely concentrated on 'motions' and advises of coach. His potential is great, he trusted and trusts his coach and controls the training. Andrei absorbs all the information he needs and applies it briliantly."
This soon paid off for Andrei, who by age 16 became the Ukrainian Junior Climbing Champion. By 1989, he was not only winning competitions in the Ukraine, but won every junior competition held in the Sovjet Union (sic).
On the day that Andrei turned 18, he had to start his Army duties. For many residents of the former Soviet Union, this meant an end to their sporting careers. But Andrei had luck on his side: Meeting up with Ervand Ilyinsky (Everest climber), they soon formed a formidable partnership. In 1991, Andrei was awarded the Bronze medal, at what was to be the last USSR climbing championship! ("After that year all world began calling our country 'former' Sovjet Union", remarks Margarita.)
His return to Yalta was triumphant. Awaited by his friends, fellow team members and family, he was given a hero's welcome. And instantly promoted to be the leader of Ukraine climbing team.
With his sights firmly set on the Gold Medal, he trained for hours and hours. Sacrificing many of the simple pleasures of life. But Andrei did not mind. He knew what his goals were. And he was prepared to work for them. Taking part in every competition he could get to, and training, training, training...
1992: Fourth in the Hungarian Open Climbing Cup;
1993: His first attendance at a World Championship. Innesbruck, Austria: Andrei becomes ill before the competition, but nevertheless climbs. Finishes eleventh. In the next year he constantly finishes fourth/fifth.
---
Fact File


Name:
Andrei Vedenmeer

Profession:
Professional Climber

Born:
24 November 1971, Simeis village near Yalta (The Crimea)

Married:
Margarita Panferova

World Champion:
1995, 1996 - Speed Climbing
Multiple national climbing champion. Runner-up, Arco (Italy) - Rock Master. Champion World Climbing Cup, Moscow 1995, won in the pairs climbing with V Netsvetaev
Member:
Ukrain climbing team

Coach:
Children's Climbing, Yalta

Most admired Climber:
Salavat Rakhmetov

Favourite Food:
Fried Potatoes

Favourite Training Spot:
Crimea rocks

Training Frequency:
15 times per week

Next Competition:
Arco, September 1996
---

1995: Geneve, Switzerland: Sweet sounds of victory!!! First in the Speed Climbing Competition and a 20th place in the difficulty competition. Margarita interjects: "No matter. It is too hard to take a part in two types of competitions!"

Also in 1995: 13th placed at the France-bouldering league contest; and an invite to the Arco Rock-Master competition, held in Italy. "It was very hard psychologicaly: sharp light, sounds, beating heart, maximum concentration...", says Vedenmeer, who finishes second, losing by 0.07 of a second to Vladimir Netsvetaev, the 1993 champion.

Moscow, 1995 World Climbing Cup. Andrei Vedenmeer: Gold Medal winner!!!

Paris, January 1996, European Climbing Championship. Andrei Vedenmeer: Gold Medal winner!!! "I wanted to do both the speed and difficulty categories, but the rules forbid, and naturally I choose my favorite competition: speed climbing.
---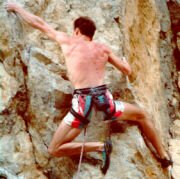 ---
After that, it was on to local competitions - the Ukraine championship. Andrei Vedenmeer - Rock Master!

Andrei's passion and love are the Crimean rocks. Especially the Nikita area near Yalta, where he has opened numerous climbs up to grade 8b+ (French). Vedenmeer says it is an "absolutely fantastic place for all levels of climbing!"

In his spare moments, Vedenmeer coaches the Children's Climbing Club of Yalta. Children like him. And why not. A charming person, with a cheerful, infectious smile, Andrei's success has not gone to his head. Just happy to be doing what he loves doing best: climbing rocks - close to where the birds fly, free as the wind.

All too soon my time with Andrei and Margarita was finished. Before I left I had a chance to see the film Andrei made about nature and the rocks in the Crimea. "Alert movie", he calls it [nature awareness]. What I saw though, was an interesting film, on a beautiful part of Russia. Who knows, maybe this will become a part of the future of Andrei Vedenmeer, World Champion Speed Climber.
---
For more information on Climbing in the Crimea, refer to Risk - Russian Mountaineering and Climbing Journal - http://www.machaon.ru/risk

© 1996, Liana Darenskaya, Margarita Panferova